In September, Codelex Legaltech had the chance to exhibit and present at

TechLaw.Fest

, a signature Law & Technology event organized by Singapore Academy of Law, Singapore Ministry of Law, and MP International Pte Ltd. Below is the script of Codelex Legaltech CEO Zolo Mundur's tech talk session on "The Mongolian Legal Industry and its developments on Legal Technology". If you already have an account on TechLaw.Fest event platform,

you can watch the recording from this link

by logging into your account.
In this tech talk stream, I will give a quick overview of the Mongolian legal industry and our journey as a legaltech startup in Mongolia.
A brief overview of Mongolia and its legal system
For those of you who don't know much about Mongolia, let me start with a brief overview of the country. So, Mongolia is a landlocked country located between China and Russia. Mongolia has a big area which is ranked 18th in the world. That is like 2,000 times the area of Singapore. It is well-known for its natural resources, such as coal and copper, and nomadic culture that still exists today. As for its legal system, the history of the modern system of Mongolian law started in 1990 when the country transitioned from a totalitarian regime to a democracy. After the democratic revolution, the country's first democratic Constitution was adopted in 1992. Since the adoption of the new Constitution, many laws have been passed to regulate new social relationships and to revise old laws to conform to its first democratic Constitution. Today's legal system of Mongolia is part of Continental or Romano-Germanic legal tradition.
Private practice and the concept of law firm formed only after the new Constitution, this means the first law firms were established only in the early to mid-90s. As of today, there are over 5k lawyers and 200+ law firms. Even though the history of Mongolian law firms is short, Mongolian law firms have developed very well in this short period of time and many provide global level professional legal service to their clients.
Considering the uniqueness of this year, I probably should say something about COVID-19's impact on the industry. In short, the Mongolian legal industry was indirectly affected by COVID-19. Mongolia's all registered cases until now are imported cases and has no community spread cases. However, the pandemic inevitably slowed down the economy due to closing the border, a decrease in exports, postponement of big projects as well as foreign and local investments, etc. As a result, the demand for law firms' of course decreased. But, the impact of the pandemic on the legal industry was relatively limited compared to countries that suffered a lot from the pandemic.
Codelex's journey
Moving on to our journey, our founder Maizorig and I are both lawyers, we used to work at the same law firm. When I practiced law, there were times I felt like I was performing repetitive tasks that can be automated but I was not really sure what to do about it. In those cases, you would finish the work somehow or assign to someone if you are lucky enough. So, our founder and I both felt the problems when we were practicing, and the solution later turned out to be legaltech.
Inspiration of Codelex's founding came from books such as Tomorrow's lawyer by Richard Susskind and The Fourth Industrial Revolution by Klaus Schwab. These books gave us a strong belief the legal industry will and is actually in the process of transformation using innovation and technology. So, this led us to founding of the first legaltech startup in Mongolia 2 years ago. Codelex's goal is to add value to the transformation of the legal industry. We believe the transformation will result in enhanced access to justice and more efficient legal service and practice of law. Legal tech products existed in Mongolia before Codelex mainly consisted of legislation or court decision database and a few websites with legal information that are owned by government agencies.
In 2019, we launched our first product eLawyer, which is Mongolia's first law practice management software. As the launch of eLawyer, we organized an event "Legal tech in Mongolia" and convened innovative lawyers in the country. Law practice management software is a new thing for Mongolian lawyers – only a few prominent law firms used foreign law practice management software, which lacked local features, even simple ones like the option of local currency. eLawyer's innovation was it was developed under Mongolian law. For example, it has the first conflict check feature consistent with Mongolian laws. It also has a feature that guides a lawyer through litigation procedure. We think there's a potential to tailor eLawyer's features to local laws and introduce it in other developing markets for solo practitioners and small law firms.
We have made sales meetings and calls with most Mongolian law firms. Many of them are not familiar with law practice management software and we found out that it is common to think that law practice management software is unnecessary. We have realized that it requires some time and consistent efforts for lawyers in Mongolia to widely use legal tech. However, in the last 2 years, the Mongolian legal industry is paying attention to legal tech and legal innovation more than before. For example, there are legal tech and innovation panel discussions in lawyers' forums and more and more innovative lawyers are interested in the field. Another legal tech startup was also founded after us. We have another product called Codelex which is currently at the ideation and research stage. With Codelex, our goal is to develop an Al-assisted contract drafting tool.
Lexub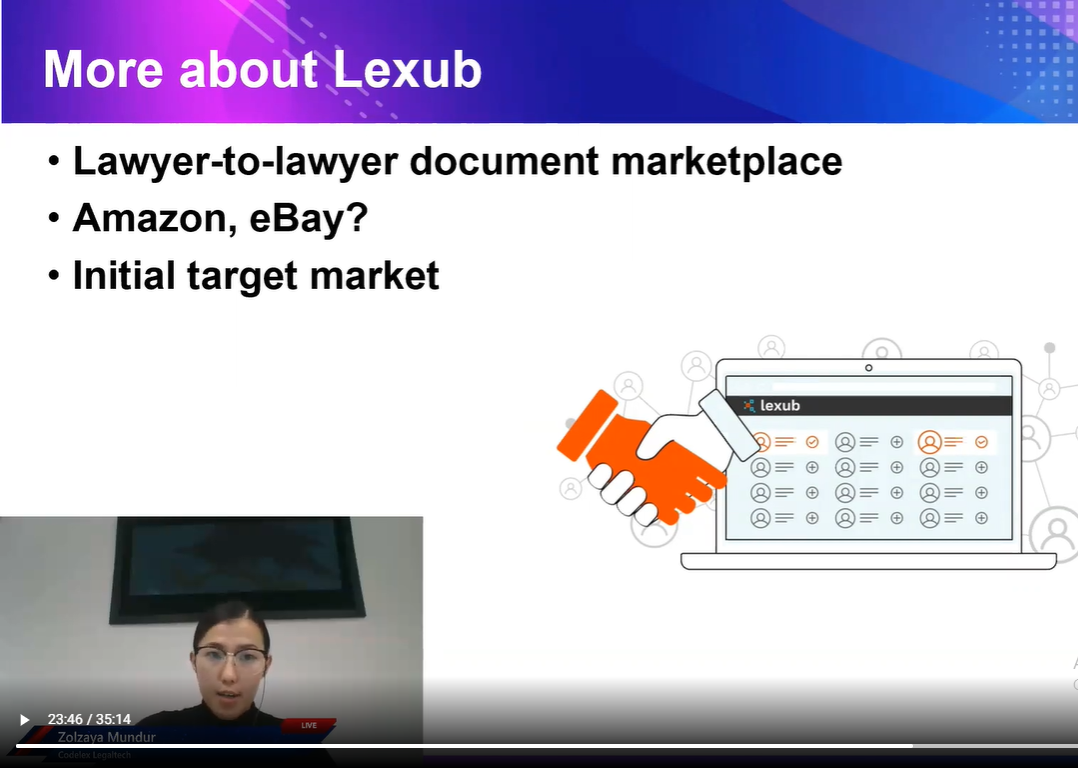 Our third product is a Lexub lawyer-to-lawyer document marketplace that we launched in February. It's a marketplace platform that lets lawyers license and monetizes their documents easily to other lawyers around the world. Lawyers regularly seek out and are asked by colleagues and peers for legal document examples. In big law firms or corporations, lawyers would refer to their internal knowledge base in this case. But, solo practitioners or lawyers working at small-to-mid sized law firms lack access to an internal knowledge base.
Lexub disrupts the old middle-man of publishing companies charging lawyers to publish and purchase precedent documents - and instead connects lawyers directly, democratizing the market and leveling the playing field, particularly for smaller firms. You can think of Lexub as the Amazon or eBay of legal documents - a marketplace with supply and demand. On the supply side, lawyers gain monetization of their legal documents, as well as generating leads, making connections, and building profiles. On the demand side, we intend to create the largest library of real legal document examples, across jurisdictions, languages, and categories - crowd-sourced and contributed directly from lawyers around the world.
We've already started with testing of product-market fit of Lexub in Southeast Asia; Now we're planning to expand internationally. In order to have better access to the South East Asian market, We also incorporated our company in Singapore last year. One of the reasons for doing so was the Singaporean government's support of innovation in general and specifically legal tech and SAL's efforts to promote innovation such as FLIP.
Running a startup in Mongolia
Moving on to our journey as a startup in Mongolia, the concept of startup and entrepreneurship is relatively new in Mongolia and the concepts have become well known only in the past decade. The first startup ecosystem supporting organization was for example founded about 10 years ago and the first Law on Innovation was adopted in 2012. However, the ecosystem is rapidly growing in the last few years. Also, thanks to the efforts of startups supporting NGOs and successful startups, the government has started to pay more attention to innovation.
o Investors' mindset has also changed. Probably, just 7 or 8 years ago, it would have been hard to find investors who are willing to invest in startups. Today, investors have a better knowledge of startups and more open to invest in them. Although the Mongolian startup ecosystem is young, I think it will soon develop to the level of developed countries learning from their mistakes and innovation.